9 Best Home Gym Flooring Options in 2022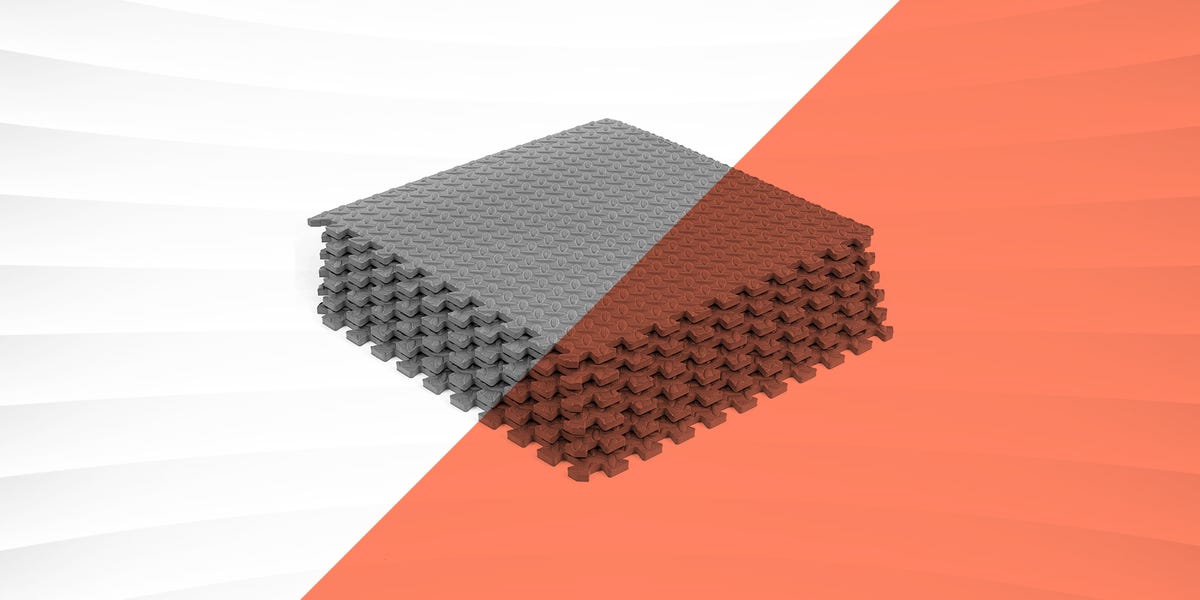 Staff, Courtesy of ProsourceFit
If you've been spending less time at the gym and more time working out at home over the past two years, you're far from alone. Countless homeowners have upgraded their home exercise rooms amid the pandemic, adding everything from weights and cardio machines to TVs and sound systems to their home gym setup.
However, there's one crucial element many people forget when creating a workout space at home: the right home gym flooring. When it comes to buying home gym flooring, two priorities are key: protecting your joints and protecting your existing flooring from gouges and wear and tear. All of the flooring you'll find below does both. The flooring below is made of a range of materials, including rubber, EVA foam, and vinyl, comes in multiple colors, and includes everything from budget-friendly picks to higher-end options.
Read on and get ready for safer and more productive sweat sessions ahead!
What to Consider
The perfect home gym floor is subjective and will vary from person to person, depending on how much equipment you have, and what types of workouts you like to tackle. Keep the following in mind and you'll land on a great floor for you.
Type of workout: If you use your home gym for yoga, you're going to want a very different floor than if you use it for pumping iron. If you do poses that have your hands or knees coming into contact with the floor, for instance, you may want to avoid flooring that has a textured surface.
Size and flexibility: Some home gym floor coverings come in small sets of tiles or a single mat designed to cover a small portion of your floor, while others will have enough tiles to cover an entire room. Measure your workout space carefully before you buy.
Material and color: We include flooring options in a variety of colors and textures, from black to purple, and hard to soft.
How We Evaluated
We thought of all of the ways you might want to work out at home, and the type of flooring each workout would require. We scoured the internet, consulted experts, and read hundreds of customer reviews to find the best mix of durable, dependable, and attractive gym flooring.
Advertisement – Continue Reading Below
1
Best Waterproof Tile
StayLock Home Gym Bump Top Floor Tile
Key Specs
Tile Size: Each pack includes 26 tiles, for a total of 26 square feet of coverage
Material: PVC
These Greatmats floor tiles are easy to assemble and can cover small or large spaces. No glue or adhesive is required—they simply lock into space. However, if necessary, the tiles can be trimmed with a utility knife.
These sky-blue, gray, or brown tiles come with durability and bounce, and can be added atop any type of flooring, from concrete to carpet to wood. These tiles provide superior cushion for intense aerobic activity, including P90X, Zumba, and jump-roping.
Reviewers love their sturdiness, how little they slide, and how easy they are to clean.
Easy to clean
Durable
Fits together tightly
2
Best Faux Wood
Simulated Wood Grain Surface Flooring
Key Specs
Tile Size: 24 x 24 inches, 0.5 inches thick, set of 4
Material: Simulated gray bamboo
This Best Step set of interlocking flooring tiles features a simulated gray bamboo wood grain surface that will look chic in your home gym, while also providing shock absorption and anti-fatigue bounce. The set comes with finishing borders and is water-resistant, too.
This type of flooring works well for supporting exercise equipment, but isn't ideal for aerobic workouts or floor exercises like yoga without an additional mat on top. Reviewers praise how comfortable it is underfoot, as well as its durability.
Sleek design
Easy to install
Not as much bounce as comparable products
3
Best for Heavy Equipment
Puzzle Exercise Mat EVA Foam Interlocking Tiles
Key Specs
Tile Size: 24 x 24 inches, 0.5 inches thick, set of 6
Material: Ethylene vinyl acetate
If you use a lot of equipment in your workouts, these tiles are a great option. This vinyl flooring can be assembled quickly and easily.
The mats are water-resistant and easy to clean, and the set comes with border pieces for a smooth edge. The tiles come in black, gray, blue, and white, so there's an option to suit nearly any home gym aesthetic. The hard surface is not ideal for floor workouts without an additional mat, but it withstands a lot of wear and tear, and will absorb the impact from dropped dumbbells.
Reviewers say this mat "lessens joint impact," and works well in any environment (including barns) to insulate against cold concrete.
Good absorption
Sturdy
Durable
Don't always stay interlocked well
4
Best Portable Flooring
Premium Extra Large Exercise Mat
Key Specs
Mat Size: 8 x 4 feet, 0.25 inches thick
Material: ProFoam
If you find yourself working out in different parts of your home—sometimes in the basement, other times in a bedroom—this bright blue Gorilla Mat is a great option for laying atop durable flooring.
The mat is large enough to accommodate any cardio or strength-training workout, and can withstand years of enthusiastic use. The ProFoam material is eco-friendly and nontoxic, and it's soft and springy enough to work out on with or without sneakers. Each mat delivery also includes a towel, storage bag, and Velcro straps to make transporting it around easy.
Reviewers say this mat works well on practically any surface and is comfortable to use, although others note that it can be difficult to clean.
Great for small spaces
Ultra-durable
Transportable
5
Cushiest Flooring
3/4 Inch Super Extra Thick EVA Foam Mat
Key Specs
Tile Size: 24 x 24 inches, 0.75 inches thick, for a total of 24 square feet of coverage
Material: Foam
This set of six interlocking black tiles is equally beloved by people who've used it for their home gyms and those who've laid it down for tumbling tots in a playroom. These super cushy foam tiles provide shock-absorbing comfort for aerobic exercise, yoga, MMA, and other workouts.
Some reviewers love these so much, they buy multiple sets and use them anywhere they stand for a long time, from the kitchen to the home office. They are easy to spot-clean with water and soap, and reviewers note that they can be flipped if necessary, as the textured pattern is consistent on both sides.
Easy to install
Super padded
Multiuse
Can sometimes slide on hard floors
6
Best Small Tiles
Protective Flooring Mats
Key Specs
Tile Size: 11.8 x 11.8, 0.5 inches thick, pack of 12
Material: Rubber
This set includes 12 small interlocking tiles, which is ideal if you have a smaller space or want flexibility in how your workout area is arranged. These tiles also come in 10 bright colors, including pink, purple, red, and yellow, and fit together easily. The jigsaw edges can be finished with the borders that are included in the set.
These tiles absorb aerobic activity, are durable enough to hold up against equipment, are easy to clean, and reviewers say they have no strong chemical smell.
Super strong
Easy to put together
Variety of colors
Textured surface may not be for everyone
7
Best for Cardio
Half-Inch-Thick Exercise Foam Flooring Tiles
Key Specs
Tile Size: 24 x 24 inches, 0.5 inches thick, pack of 4
Material: EVA foam
If you need a durable tile that is soft to the touch, these IncStores mats are a great option. These interlocking EVA foam rubber tiles offer major shock absorption for hardcore aerobic exercise, but are soft enough to be comfortable for floor exercises like yoga. Their texture and strength make these tiles a favorite for gymnastics, dance, and cheer routine practices. These durable tiles are praised by reviewers for being easy to clean, slip-resistant, and for their lack of chemical odors.
Shock-absorbing
Durable
Soft
Not ideal for heavy equipment
8
Best Range of Colors
Half-Inch Exercise Foam Tiles
Key Specs
Tile Size: 24 x 24 inches, 0.5 inches thick
Material: Foam
There's a set of these FlooringInc tiles to suit every aesthetic: they come in neutrals like gray, black, and white, as well as more colorful options, like red and purple. These tiles are also water-resistant, shock-absorbing, nonslip, and easy to install.
Many reviewers mix and match colors for an energizing gym experience. One reviewer notes that the tiles have enough cushion to make working out on a concrete floor comfortable, while another notes that they're great for "aerobics-type workouts and for things like push-ups and floor exercises."
Antimicrobial
Easy to install
Doesn't interlock as well as some models
Not ideal for heavy equipment
9
Best Vinyl Tile
Half-Inch Thick Rubber Top EVA Foam Exercise Gym Mat
Key Specs
Tile Size: 24 x 24, 0.55 inches thick, pack of 12
Material: Ethylene vinyl acetate
These rubber-padded blue-speckled black vinyl mats are great for traction and absorbing impact if you love to do hardcore cardio workouts. They are also smooth and soft enough for yoga, Pilates, and floor routines. The puzzle pieces can be put together quickly, with borders for rounding out edges. If pumping iron is your thing, these mats are also capable of absorbing the impact from dropped dumbbells.
One reviewer enthuses that these are "exactly like the ones in a gym," while others note that they're easily cleaned and stylishly designed.
Covers a lot of space
Easy assembly
Great absorption
Strong odor at first
Not ideal for heavy equipment
This content is created and maintained by a third party, and imported onto this page to help users provide their email addresses. You may be able to find more information about this and similar content at piano.io
Advertisement – Continue Reading Below